The other day ( July 22nd ) I happened to post a post about my dog "Buick" that I titled
I had to go to jail today
and how he went to jail because he had been caught on the highway chasing other (Buick's, Chevy's and Fords.)
The original posting date for it was on March 27th on my other blog that I am slowly deleting (
Willowshimmers Woodworks)
so that my woodworking and only my woodworking will be on my new
Wood Alley
blog and everything else will be found on this one,
Just my day blog
.
Not in a million years did I think I would be writing today, just 3 days later about the
irony
of that particular post ,but I am and here it is.
These 3 pictures were taken at 4:47 P.M. July 23rd. I was on my computer when both of our dogs, "Buick" and "Nala" decided to have some fun with my hubby who was sitting in his chair. Both dogs had actually got ON the chair with him and the chair was swiveling around and we were having fun laughing about it. It (having both dogs on me like that) would have practically killed me. So I grabbed my camera and as usual things change and they had got off the chair but I still took these pics.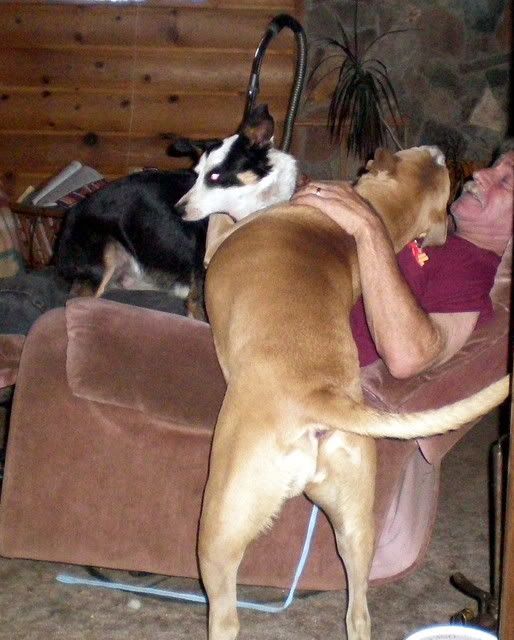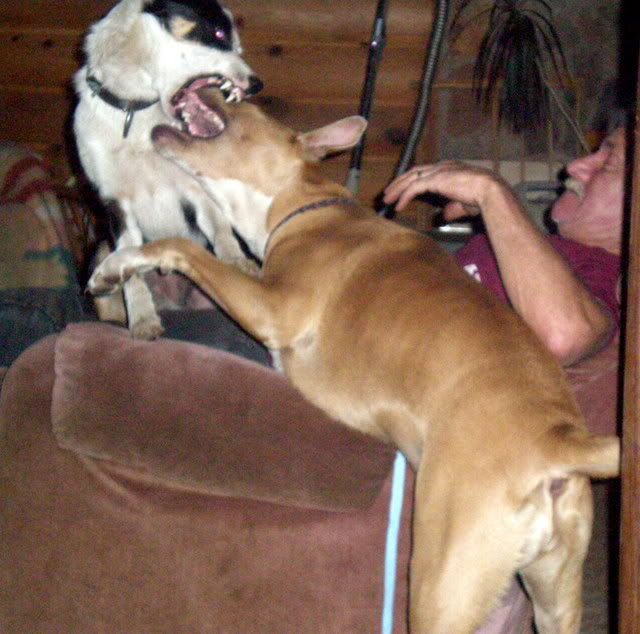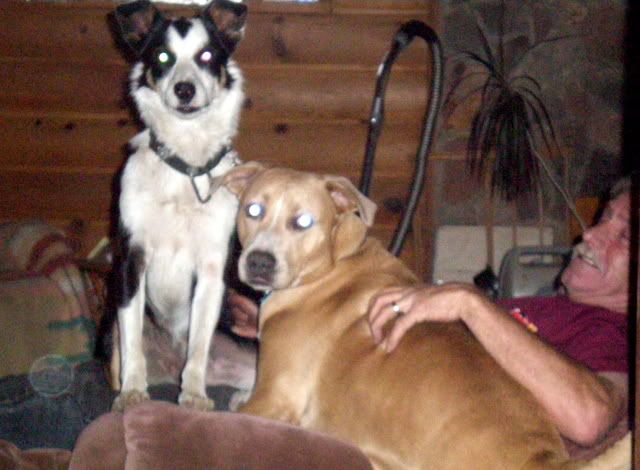 And then here they are smiling for the camera! Nala has the most beautiful almost green eyes, and Buick has one blue eye and one brown eye. But of course they have just red eyes in these pics cus i never would have known I would be posting this!
Less than 10 minutes after these pics were took we took the dogs outside to run around. By this time my hubby Dave had had enough of the dogs horsing around on his belly.
We went and sat down in our back yard while the dogs played, and out of no where 2 black labs ran past us all (as if they were being chased) and Buick was off. The 3 dogs were were out of our sight in a split second. Yelling Buick was not working and off in the truck we went. We never saw the 2 labs or "Buick" again.
We came home for awhile figuring he would come back but after around 15 minutes and no sign of him we really started to get worried. Back out we went searching, this time we took our cell phones and went our separate ways.
The mosquitos came out and the sun was going down and after a couple hours my hubby and I met back at home. We live right on the edge of the woods, and its not like we have any street lights and by now our closest town has been shut down for a couple hours. I am sure any animal lover out there that may be reading this knows the agony we went through the rest of the night.
And so it goes..........
At sun up the next morning we found our beloved "Buick" undernesth the same picnic table we had been sitting on just 14 hours earlier. Sooo obviously near death we got him in the house and waited for our closest Animal Shelter to open there doors. I never believed in a million years he was going to live those 1 and 1/2 hours. But he did.
He obviously was hit by a car and his left front leg looked little more than a piece of hamburger meat.. Road Rash was obvious and he could barely move.
Unbelievably "Buick" suffered not one broken bone. He does however show signs of blood in his lungs but the vet says he is going to be fine. He was operated on this morning as they could not do it yesterday because he was in such shock.
We brought him home today around 4;00 p.m. and he came in the house and acted just like Buick acts, I found my self taking pictures of him with the hubby in the very same chair trying to do the very same thing that he was doing a mere 48 hours ago. Even those 48 hours were some of the longest I have ever lived, I am surprised how well he is doing. I will say that after this chair pic coming up, he got onto "His" chair and has been quietly sleeping ever since. It is now 8:28 P.M. But he is going to be okay!!!!!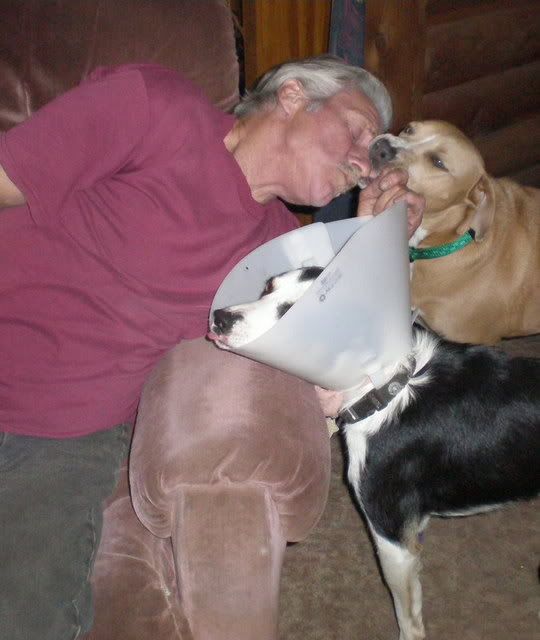 You can see his tongue hanging out here as it is still swollen. But for a brief moment he just had to try to play.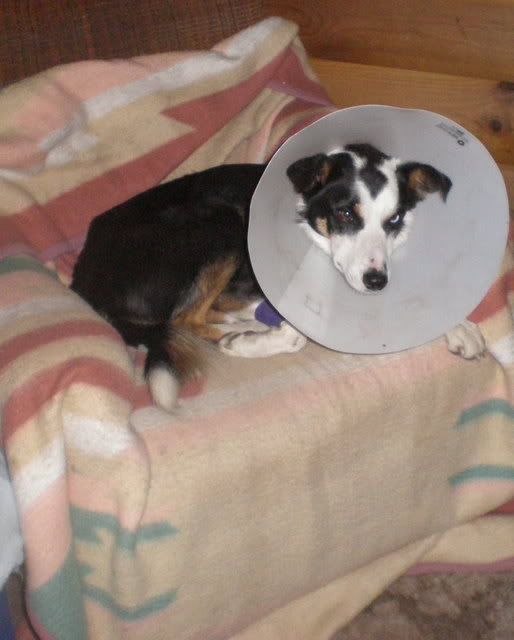 It did not last very long.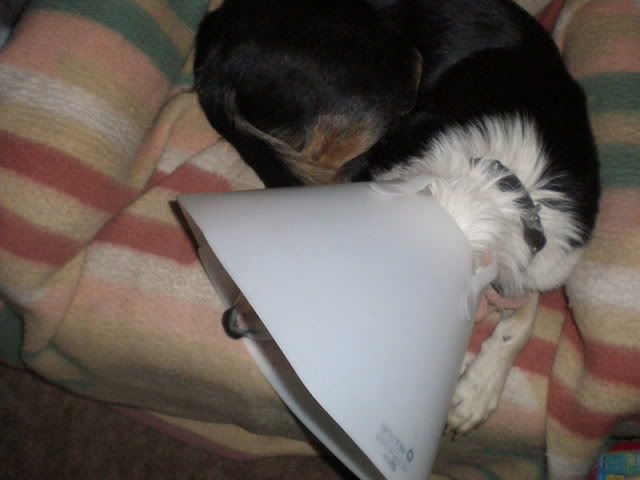 16 stitches in a leg that looked like hamburger, my "Buick" I think looks GREAT!!!
The moral of this story is HUG and LOVE your animal today and every day. You never know what might happen, and it may happen right in front of you~
PEACE!!!