Camera Critters
2 years ago I was down in southern Ca. visiting my father where I grew up. This guy here was wandering around at La Mirada Regional Park, in La Mirada Ca. I think he's majestic and kept these 2 pictures all this time.
I only wish I had known that I would be here 2 years down the road showing these. Perhaps I would have been more careful to not place his beautiful head in front of a tree. LOL!!!
For some truly wonderful Camera Critters just click below. They are always worth taking a look at!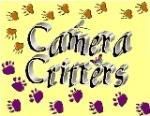 And Please have a great and SAFE Memorial Day weekend for those celebrating!